We are following the current guidance issued by the Church of England, in relation to the Coronavirus (COVID-19) pandemic

.
**************************************************
There is a weekly Sunday service of Holy Communion at 10.30am at All Saints' Church, Kirkbymoorside.
All Saints' will also be open on Sundays and Wednesdays from 9.00am to 5.00pm for individual private prayer.
A weekly reflective service for worship in isolation is also available, please click on the link below...
Reflective Service 18th October
St Michael's Church, Edstone, re-opened for worship on Sunday 16th August - please see Edstone page for monthly service details.
The other churches in the Benefice are now re-opening for worship, each for one Sunday a month - details listed below. Please also see each Church page for service details.
First Sunday - Bransdale
Second Sunday - Farndale
Third Sunday - Gillamoor
Thank you for your patience.
In Prayer and Blessing,
Mark, (Priest)
updated 16th September 2020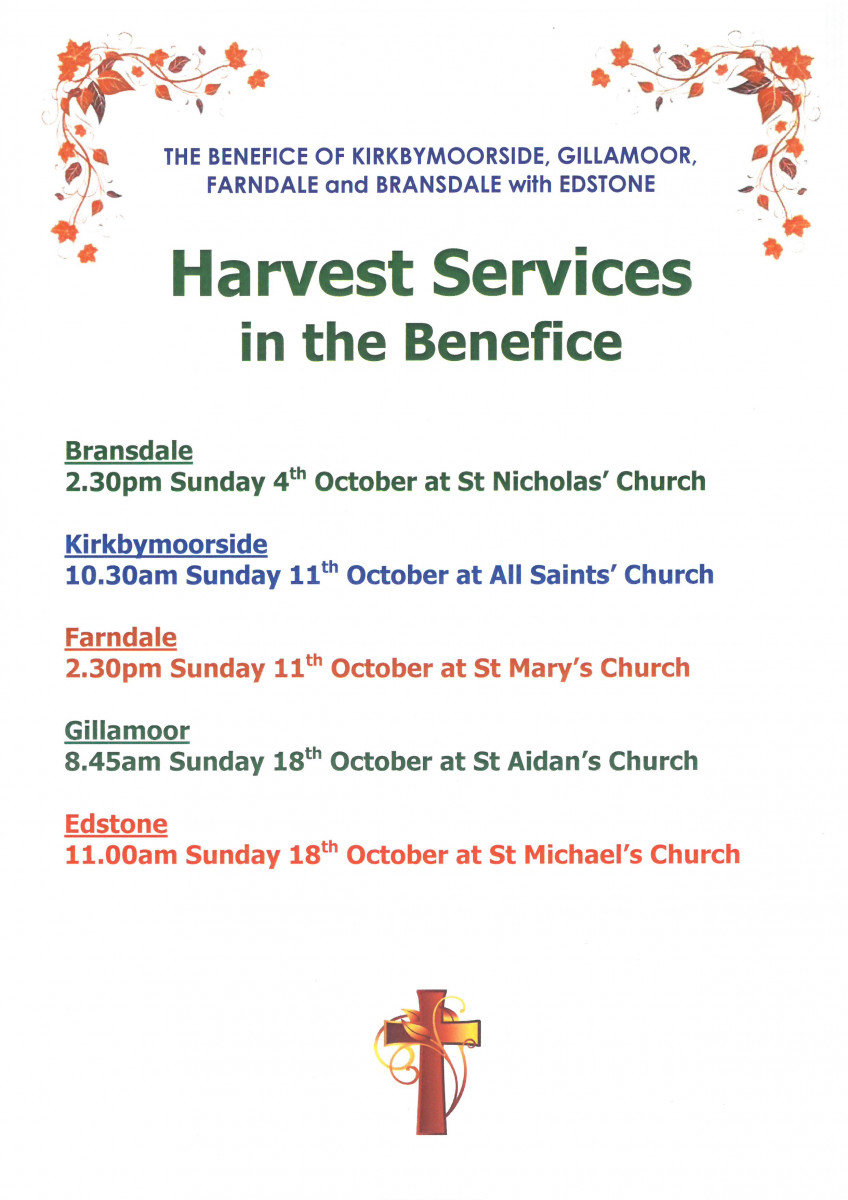 **************************************************
"Nurtured in faith to grow in holiness"
Welcome to
the home of
The Church of England Benefice
of
Kirkbymoorside, Gillamoor, Farndale and Bransdale
with Edstone.
For further information about each of the Churches in the Benefice -
ALL SAINTS', KIRKBYMOORSIDE
ST AIDAN'S, GILLAMOOR
ST MARY'S, FARNDALE
ST NICHOLAS', BRANSDALE
ST MICHAEL AND ALL ANGELS', Gt.EDSTONE
simply click on the tag at the top of the page.
For further information about the life of the community in Kirkbymoorside and the surrounding area,
In accordance with Diocesan regulations, this Benefice is committed to adopting the policy of safeguarding children, young people and vulnerable adults. Please see the 'Parish Safeguarding' page for more details
/parish-safeguarding/
The Parochial Church Council of Kirkbymoorside with Gillamoor, Farndale and Bransdale is Registered Charity Number 1182973